Following a previous blog, here is a quick update on the ongoing expansion of our Yorkshire factory. Two weeks ago we acquired some machinery from a recently demised Southampton-based joinery company.
Transported from Southampton by Machinery Moving Services (Halifax), the fully loaded wagon arrived at our factory first thing last Wednesday morning.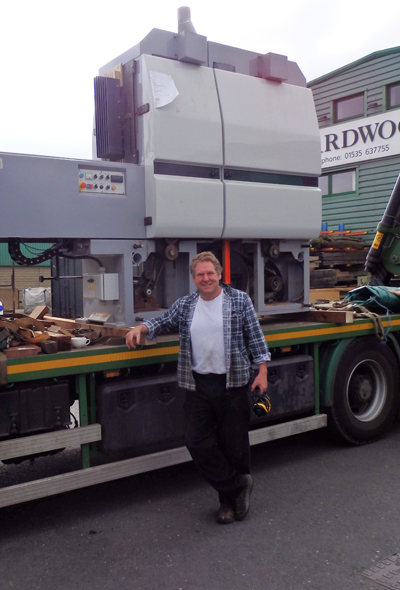 The most important purchase was a Neva Mamuth Frame Saw, which will help speed up the manufacturing time of our lamellas. Lamellas are the thin oak boards that form the top layer of our engineered wood flooring.
Hardworking flooring technician Jason, always willing to help, assisted with the offloading process.
Along with the Mamuth Frame Saw we also purchased two cross-grain pellet machines. You can expect to see an increased range of these handy little wooden plugs on the website some time soon!
The smaller items were expertly offloaded by Jason on the forklift truck.
When originally viewing the items for sale in Southampton, MD Tony Fillingham had spotted a neglected Gilera motorbike amongst the machinery. Tony's first motorbike was the very same model and, in a moment of nostalgia, he purchased the bike. The bike is in need of some repair and restoration - lucky that we have many practical hands here at British Hardwoods.
The next job was transporting the rather large Mamuth Frame Saw into our building!
After much skillful manoeuvring the Mamuth reached its final destination in our newly expanded workspace. During the next few weeks, we will install the necessary dust extraction and wiring and then have the new frame saw working to full speed.