Native Hardwoods
Kiln dried native timbers
British Hardwoods is a specialist timber merchant and leading supplier of kiln dried native hardwoods.
We take time to source only the very best hardwoods from sustainable forests within the United Kingdom. All our native timbers are sawn, selected and kiln dried at our premises here at the edge of the Yorkshire Dales.
Our native timbers are priced by the cubic foot and are available in a range of widths and thicknesses. The boards are stored on individual racks, allowing easy access to the species of your choice.
In addition to our regular hardwood stocks, we also have a range of specially selected boards. These are priced individually, and are unique pieces, picked for their particular character and appeal. We also stock blanks and squares, ideal for woodturning.
Following recent Government advice regarding the current Coronavirus COVID-19 situation, we regret that our native Timber Shop is not currently open to the public. We are currently uploading specially selected boards and native hardwood multi-packs available to purchase online. We hope to have a Virtual Timber Shop for you to browse online very soon, please follow our Social Media channels for updates.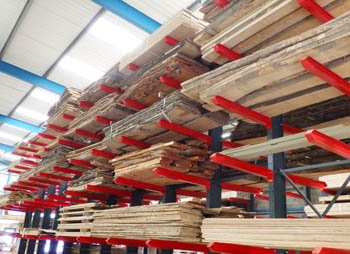 Timber Species
1"
2"
3"
4"
Ash

£33.60

£38.40

£45.60

£52.80

Beech

£28.80

£31.20

£45.60

£52.80

Cherry

£38.40

£45.60

-

-

Elm

£66.00

£78.00

£84.00

£88.80

Lime

£38.40

£45.60

£54.00

£60.00

Maple

£38.40

£45.60

£54.00

£60.00

Oak - Pippy

£54.45

£66.33

-

-

Oak - Brown

£54.45

£66.33

-

-

Oak - Prime

£54.45

£66.33

£82.17

£100.80

Oak - B Grade

£40.05

£44.10

£62.10

£80.10

Sycamore

£38.40

£45.60

£54.00

£60.00

Yew

£54.00

£57.60

£63.60

£68.40

The prices listed above are per cubic foot and include VAT