Wood Flooring and Related Timber Products
Why choose British Hardwoods?
At British Hardwoods we are passionate about wood and how it can be used to enhance your living environment. We hope that the hardwood products you buy from us will become part of your everyday life for years to come. We firmly believe that using wood in your home shouldn't cost the earth, which is why all the raw timber that we use is sourced only from FSC or PEFC certified suppliers - helping to protect this valuable resource.
Solid Wood Flooring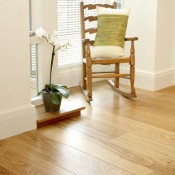 Oak flooring specialists - our range also includes ash, maple, cherry and walnut
Sustainably sourced hardwoods
Accurately machined single-plank floorboards - a pleasure to fit
Wide boards and long lengths as standard
Factory acclimatised floors - ready to fit
Engineered Oak Flooring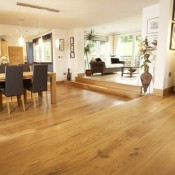 Single plank wide boards with a generous real wood top layer
Ideal for use in conjunction with under-floor heating systems
Enhanced stability - perfect for bathrooms and kitchens
Our structural grade engineered oak floors can be fit directly onto joists or battens
Skirtings, Architraves & Mouldings
Quality hardwood skirting boards in heights up to 222mm
Matching architrave and mouldings in all timbers
Full range of popular profiles - traditional and contemporary
Generous volume discounts
Accurately machined timber with a fine surface finish
Oak and Hardwood Timber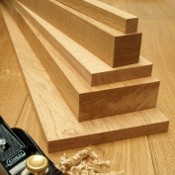 Specialist oak timber merchant
Rough sawn, calibrated and planed all round timber
Planed timber available online with generous discounts for quantity
Accurately machined by skilled craftsmen here in the UK
Hobby packs and thin wood boards perfect for hobbyists
Regular choice of selected hardwood boards in oak, yew, sycamore and elm and other timbers
Wood Floors and more...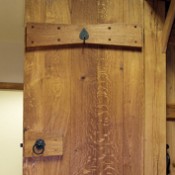 Our beautiful wood floors, skirting boards and timber are only part of an extensive range of hardwood products. Our solid oak farmhouse doors add the perfect finishing touch to any design project, as do our stunning waney-edged oak window boards. We supply oak beams which can be used as structural supports or simply for decoration. Our hardwood worktops are made to order and are supplied in full-length staves. We also stock a huge range of ancillary products for fitting, finishing and maintaining anything in wood.
Our Customer Reviews
"We have just had our floor laid using oak flooring from British Hardwoods and we are over the moon with it. Definitely worth paying extra to know that we will never have to to replace the floor again - maybe sand and refinish at some point - but this is a do it once for lifetime job - it's that kind of quality. We are really pleased."
Review by J.P. (July 2022)
"I've just spent the Christmas holidays fitting 10 architrave sets and 30 metres of chamfered skirting, all top quality, straight, no splits, no wastage and critically, the profiles were consistent throughout with no noticeable machining faults. The final finish was smooth and only required a light sand prior to oiling. From the first pre sales phone call re stock availability / delivery options being professionally and helpfully handled on the Friday before Christmas with delivery on the Monday before Christmas by a happy / helpful driver, I was really impressed with the service. Strong edge packaging along with sturdy cling film to protect from moisture ensured that all the lengths arrived flat and undamaged. All in all a masterclass in quality and service that made the project a pleasure."
Review by Jon (January 2022)
"I am overjoyed with the quality of this wood flooring. Precisely engineered, the tongue and groove assembly was clean and easy. The grain variety and few knots all add to the beautiful overall effect. I finished the floor with two coats of Fiddes hardwax oil and the appearance is excellent. The order was delivered, very well packaged, within the original estimated time scale. The company has been excellent to deal with and I would not hesitate in recommending them or the product."
Review by Howard (April 2021)
"What a fab company selling a high quality product which is great value when comparing to other companies. I have spoken to several members of staff whilst researching and ordering their Classic Engineered Oak Flooring and window boards. From the initial contact in the showroom, to the backroom staff, to the delivery driver - ALL of them were so helpful, friendly and professional. They freely passed on their knowledge and advice during our phone calls. And let's not forget the people in the workshop who produce a high quality product which looks great. Thank you British Hardwoods."
Review by L.S. (June 2020)